This month had been hard for all of us- travelling was banned and we are encouraged to stay at home. Somehow movie gives a great solution. Movie gets me into a different city and time, it's like traveling without leaving your couch. I am into French cinema right now and it felt like a whole new world for me. I remember I felt into another country-related cinema and culture few years ago, but after spent sometime turns out I did not like it. It's very human – if you get bored and no curiosity left, you left. I did study the language though. So it's have benefit for me. I want to try neutral with French. I want to enjoy it, but not j'adore with it, because eventually you get bored. or maybe less interested. But I've been to France, visit Paris, Marseille, and Nice, and yes it was such a beautiful, magical, and once in a lifetime journey. Traveling by yourself to Europe at twenty something age is a rare chance, and I'm grateful for it. Throughout my enjoyment towards the movie I watched for the last month, I noticed some of the place in Paris that was very familiar. It's like a rendezvous, maybe that's why I like to watch it. And listening to their language is very pleasantly mysterious for unspoken french person like me. Here are some of the movies and series that I had the chance to watch this month.
Un Prophète (2009)
I've said it and I'm gonna say it again. This is my favourite movie period. Maybe it's not the best movie ever made, but for me, it has a personal related topic which I consider very well describe: the freedom, the struggle, the hardship. It is a wake-up call movie for me. And you must be wondering how do I found this movie? It's very simple. I was just scrolling around a blog that I've been followed lately and found a post regarding a celebration of ten-year post production of this movie by dvd release. I got interested then I watch it, just out of curiosity. I usually very selective in handpicked a movie to make a sure I watched a good one that I could possibly add to best movie list, but this time I was just messing around and thought this maybe a nice movie. I was wrong, it was a fantastic movie. Ever since watching it, I am looking for another movie with the actor in it (typical me) and another good French movie. So maybe it was just like me, you coincidentally read this post and decide to watch the movie. Go for it and tell me about it later.
Le Grand Voyage (2005)
This is a very good movie. It's heartbreaking in a very subtle way. I really like the ending scene- very rich, and sad, and hopeful – the scene where he puts away his head out of the window from the taxi was I think one of the most memorable movie scene ever. Go watch it.
Grand Central (2013)
I am curious about Tahar Rahim which is an excellent actor and Lea Seydoux , so I decided to watch this movie. But sadly it's not on my best movie list. Well it is quite rare and different, and it is very French which had some bold scenes, but at the end I just don't like it. But I do like the fact that the sound of the alarm of the factory rang five times it signals for a great danger. In the last scene into closing credits, the alarm five times and it pictures much the story of the movie – dangerous and desperate.
Happy Few (2010)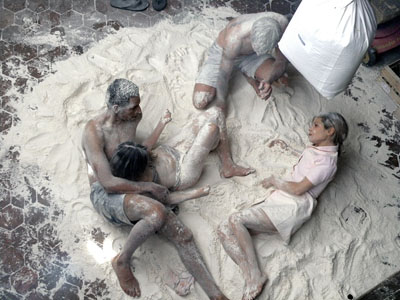 This movie is typical French. It was very French in a way creating a non-boundaries of relationship. It is very strange in a French way, it's very endearing. The story was quite pretty flat and I would recommend you to watch other movie than this one, unless you are very..very horny.
Les Hommes Libres (2004)
The movie Les Hommes Libres aka Free Men told about a non-France man who helped Musli community saved a Jew during the Nazi era. It is very beautifully told. I really like how it use The Great Mosque of Paris as a shooting place. I went there last summer before I watched the movie and it was very beautiful. The place was mysterious yet very calm, I went to the underground to take ablation before I pray and I felt a connection during my visit while having a Jama'ah Pray, because no matter where you are or where you're come from, when we pray together, we are the same. It is very rare that a movie has this lots of length portraying Islam in a very good way. The actor was excellent as well. I really recommend this movie.
Synonymes (2019)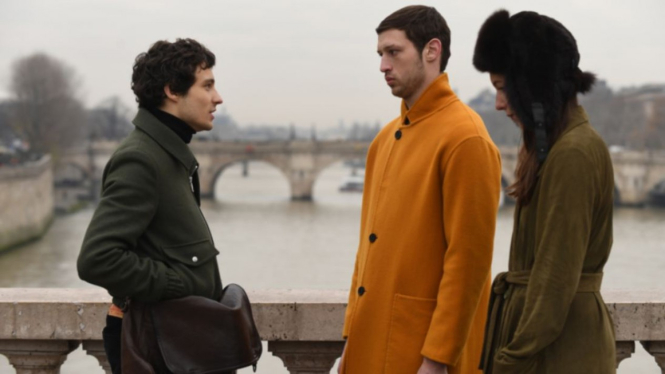 I like this movie. I like the modern vibe from this movie, it is a satire to a non-French person that wanted to be French. In the end the actor said " You don't know how lucky you are to be in French".Still, in some ways, there were some awkward scenes that was meant deliberately to be artistic and meaningful – but somehow for me it's just art deco. However I like the background from this movie, their dress, their conversations. It lives up when you really want to watch Paris in a modern vibe in an artistic movie.
Plan Coeur (2018/2019)
Go watch this series ( Netflix title : Hook-up Plan). I usually not into series, but this one is really good. It's like French version of Friends. I like this type of series, it's light, it's lovable characters and gang of friends, and it's modern, hype, without being too high – they give a standard working class character. I could make a whole new post about this series, but the point is go watch it. I used to wonder what all those beautiful man and woman talked about during in my Paris trip and this series pretty much solve the questions. It's like me living another life while watching it – my imaginary Parisian life.
So that's all so far, there are LOTS of great French movie out there, I know it and I could mention some titles. But somehow I managed to watch some of the less commercial and popular yet interesting from the above and you're maybe want to watch it as well.